Today Microsoft released Windows 11 Insider Preview Build 23511 to the Dev Channel with improvements and fixes.
The Dev Channel receives builds that represent long lead work from Microsoft's engineers with features and experiences that may never get released as they try out different concepts and get feedback. It is important to remember that the builds they release to the Dev Channel should not be seen as matched to any specific release of Windows and the features included may change over time, be removed, or replaced in Insider builds or may never be released beyond Windows Insiders to general customers.
What's new in Build 23511
More improvements for Windows Spotlight
After trying out different treatments for how Windows Spotlight looks, Microsoft is now rolling out a single Windows Spotlight experience for Windows Insiders in the Dev Channel that includes previewing images at full screen, multiple opportunities to learn more about each image and a minimized experience. To open the Windows Spotlight experience, right-click on the Spotlight icon on the desktop. You can also double click on the icon to directly launch a Bing landing page for more info on each image.
To enable Windows Spotlight on your PC today, right-click on your desktop and choose "Personalize" and then choose the new Spotlight theme. Alternatively, you can directly enable Windows Spotlight by going to Settings > Personalization > Background and choosing the option under the "Personalize your background" dropdown.
Changes and Improvements
[General]
If a camera streaming issue is detected such as a camera failing to start or a closed camera shutter, a pop-up dialog will appear with the recommendation to launch the automated Get Help troubleshooter to resolve the issue.
[Windows Copilot]
Windows Insiders in the Dev Channel who login and are managed by AAD (soon to be Microsoft Entra ID) will notice that the Windows Copilot Preview is no longer available in this build. This is just a temporary issue. You may enable it temporarily via this policy located here in Group Policy Editor: User Configuration > Administrative Templates > Windows Components > Windows Copilot. Please note that this policy name will change in an upcoming flight. The Windows Copilot Preview will be defaulted on in a future flight including support for Bing Chat for Enterprise.
[Start menu]
For people logged into an Windows 11 Pro or Enterprise editions with an AAD account (soon to be Microsoft Entra ID), Microsoft is providing a richer preview when hovering over files such as Word documents under Recommended on the Start menu. For this initial release, thumbnails will not be available for all files and a later update will enable the experience for more files and for MSA users. Additionally, when right-clicking on cloud file recommendations, there is now an option to quickly share these files.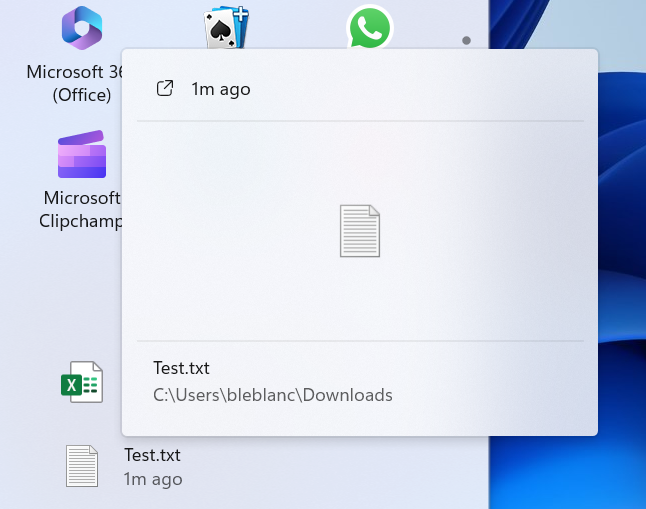 Under All apps in the Start menu, Windows 11 system components will now show a "system" label. This change is beginning to roll out and so not all Insiders in the Dev Channel will see it right away.
[Taskbar & System Tray]
Notifications will now show as a bell in the system tray and when new notifications come through, the bell will colorize based on your system accent color. When there are no notifications and the clock is visible, the bell will be empty. Notification counts are no longer shown.
[File Explorer]
Made some changes which should noticeably help improve the performance of the "calculating" phase when sending a large number of files at once in File Explorer to the recycle bin.
[Snap Layouts]
Microsoft has fixed the bugs that were causing some crashes that resulted in us turning off suggestions in Snap Layouts and are beginning to roll this out again to Windows Insiders in the Dev Channel. Suggestions in Snap Layoutsthat help you instantly snap multiple app windows together. When hovering over the Minimize or Maximize button on an app (or WIN + Z) to launch the layout box, you will see app icons displayed in various layout options to help recommend the best layout option that works best. This experience is beginning to roll out (again) so not all Windows Insiders in the Dev Channel will see it right away.
[Settings]
Microsoft has fixed the bug that could cause some instability which resulted in us disabling the new Settings homepage with Build 23506 last week. Microsoft has begun rolling the new Settings homepage out again to Insiders in the Dev Channel.
Microsoft is beginning to roll out a new option under Settings > Bluetooth & devices > Phone Link to disable Phone Link all together in Windows 11. This setting will prevent Phone Link from communicating with your mobile devices.
Fixes
[File Explorer]
Fixed an issue where copying files out of large archives or using "Extract All" might have been slower than expected for "solid" .7Z or .rar archives.
Fixed an issue where when decompressing some of the newly supported archive format types, the folder names might become gibberish.
Fixed an underlying issue where in some cases the context menu background in File Explorer was appearing transparent.
[Notifications]
Fixed an issue that was preventing apps from opening when you selected inside a notification popup for that app.
Fixed an issue causing Insiders to unexpectedly see a notification suggesting you turn off notifications for an app named NotifyiconGeneratedAumid_*.
[Taskbar & System Tray]
Fixed multiple explorer.exe crashes that were impacting taskbar reliability.
Fixed an issue that was causing quick settings not to open when selecting the network, volume, and battery icons in the system tray.
[Task View & Desktops]
Adjusted the desktops switching animation to ease into the animation a little more.
[Search on the Taskbar]
Fixed an issue where search was not actually hiding when set to hide in taskbar settings.
[Windows Ink]
Fixed an issue where writing in the address box in Microsoft Edge might not work correctly. Make sure Microsoft Edge is up to date with the latest version.
NOTE: Some fixes noted here in Insider Preview builds from the Dev Channel may make their way into the servicing updates for the released version of Windows 11.
Known issues
[General]
[NEW] Microsoft is investigating reports that explorer.exe is crashing on the login screen (with an error pop up) when attempting to enter safe mode.
[Start menu]
[NEW] Some apps under All apps on the Start menu, such as PWA apps installed via Microsoft Edge, may incorrectly be labeled as a system component.
[Windows Copilot]
You can use Alt + Tab to switch out of Windows Copilot, but not back into it. Windows + C will move focus back to Windows Copilot
When first launching or after refreshing Copilot while using Voice Access you'll need to use "Show grid" commands to click in the "Ask me anything" box for the first time.
[File Explorer]
Insiders may experience a File Explorer crash when dragging the scroll bar or attempting to close the window during an extended file-loading process.
[NEW] In some cases, the icons on your desktop may all go blank. If this happens, using the refresh option in the desktop context menu should resolve it.
[Dynamic Lighting]
Switching user accounts can turn off device LEDs.
[Windows Ink]
Windows Ink does not convert handwriting to text into the main content (e.g., Word documents and Excel spreadsheets) in Microsoft 365 applications.
Search boxes in Microsoft 365 applications (e.g., Microsoft Word) might not work correctly.
Comment fields in Microsoft 365 applications (e.g., Microsoft Word) might not work correctly.
Availability
Windows 11 Insiders in the Dev channel can download the update by Checking for Updates in Settings.