Google has made a significant stride in improving Android security by rolling out its unknown tracker alerts feature to Android 6.0+ users. This new feature aims to provide enhanced protection against unwanted Bluetooth tracking on Android devices, ensuring that users have more control and transparency over their security.
Announced at Google's I/O 2023 event, unknown tracker alerts have three main functions that contribute to a safer user experience: automatic alerts, user action on alerts, and manual scanning of surroundings.
Automatic Alerts for Unknown Trackers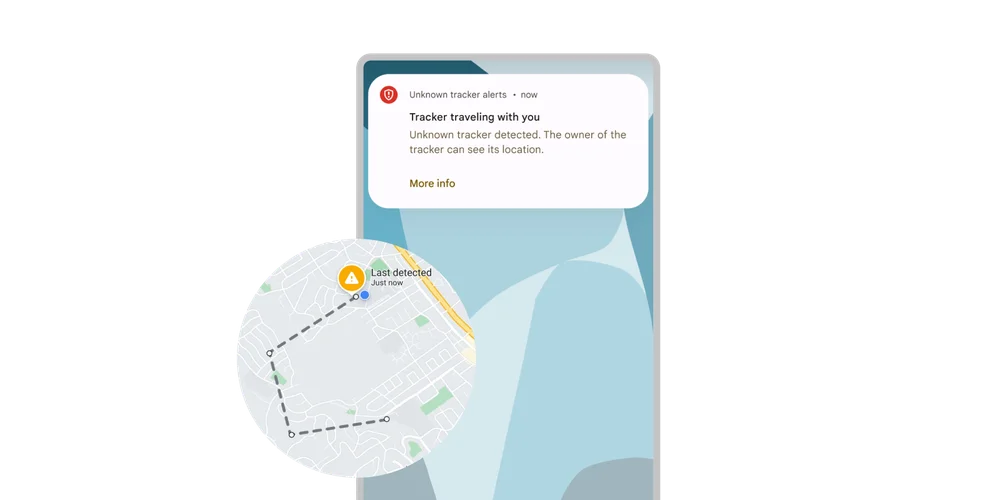 Android users will now receive automatic notifications if their devices detect an unfamiliar Bluetooth tracker moving in conjunction with them. The notification will provide users with information about the tracker, along with a map of where the tracker was detected. Furthermore, users can tap the "Play sound" option to trigger a noise from the tracker, aiding in its location without alerting the tracker's owner.
The feature currently works with Apple AirTags, and Google plans to expand this protection to other tracking tags through a joint industry specification.
User Action on Unknown Tracker Alerts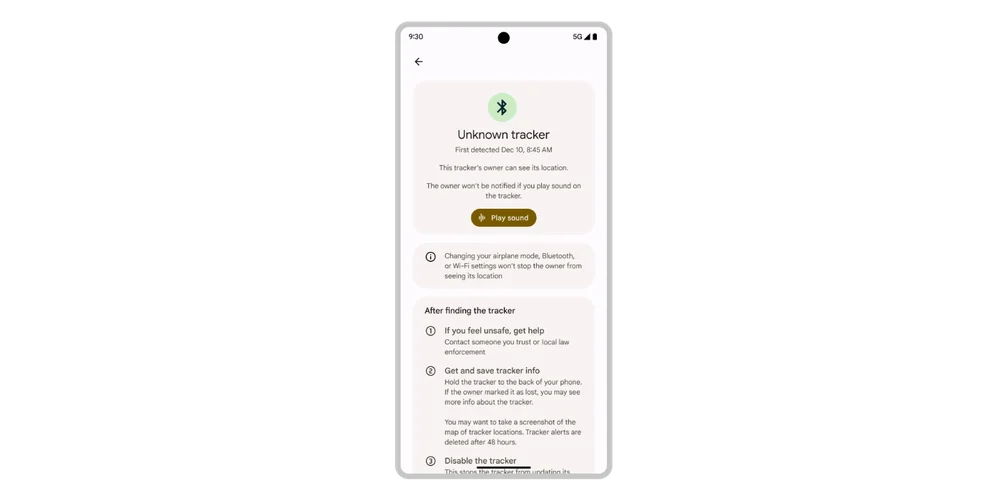 Once an alert is received, users can access more details about the unknown Bluetooth tracker and receive advice on further steps. By bringing the device near their phone, users may obtain the tracker's serial number and potentially, some information about the device's owner.
For those who wish to ensure their privacy, Google also provides instructions on how to physically disable the Bluetooth tracker. This action will prevent the device's owner from receiving any future location updates from the tracker.
Manual Scanning of Surroundings
Google has also catered to users who prefer to proactively check their surroundings for trackers. The new manual scan feature allows users to verify if there are any trackers nearby that are separated from their owners.
To manually scan, users can go to Settings → Safety & emergency → Unknown tracker alerts and tap the "Scan Now" button. The scan takes approximately 10 seconds to complete, and the results will display a list of trackers currently near the user and separated from their owner's device.
These new developments underscore Google's commitment to enhancing Android's safety features. The company is also keen to provide users with up-to-date information about compatible devices and how Android maintains user safety, all available through their help center.
Google also provided an update on the launch status of its new Find My Device network, announced at I/O 2023, which promises to help locate missing items such as headphones, phones, and everyday items using a variety of new third-party Bluetooth tracker tags. The rollout of the Find My Device network has been put on hold until Apple has implemented protections for iOS, highlighting Android's dedication to user safety and prevention of unwanted location tracking.
As the digital landscape continues to evolve, so too do concerns over security and privacy. Features like Google's unknown tracker alerts provide a clear indication of tech giants' efforts to address these issues, delivering peace of mind to their user base while setting a higher standard for device security.