Google has always placed a strong emphasis on user personalization, and the upcoming Android update, announced at Google I/O 2023, is taking that commitment to new heights. Fueled by Google's advances in generative AI technology, the next Android update promises a more customized and individualized user experience.
Dave Burke, VP of Engineering at Google, shed light on the new features coming to Android, which will revamp everything from messages to wallpapers.
One of the most exciting developments is the introduction of Magic Compose. This new feature in Google Messages, powered by generative AI, will offer suggested responses based on the context of your conversations. Beyond that, it will also enable users to transform their text into different styles. Whether you want your message to be concise, professional, or even sound like Shakespeare, Magic Compose can make it happen. The beta version is set to roll out this summer.
The home screen experience of Android phones is also set for a major upgrade. The Material You design system, introduced two years ago, allows users to personalize their Android experience with a cohesive color palette derived from their chosen wallpaper. With the upcoming Android 14, this customization will be taken a step further. Users will be able to personalize their lock screens with new shortcuts and a variety of beautifully designed clocks.
A new monochrome color theme will be available, providing a minimalist aesthetic across the entire phone experience.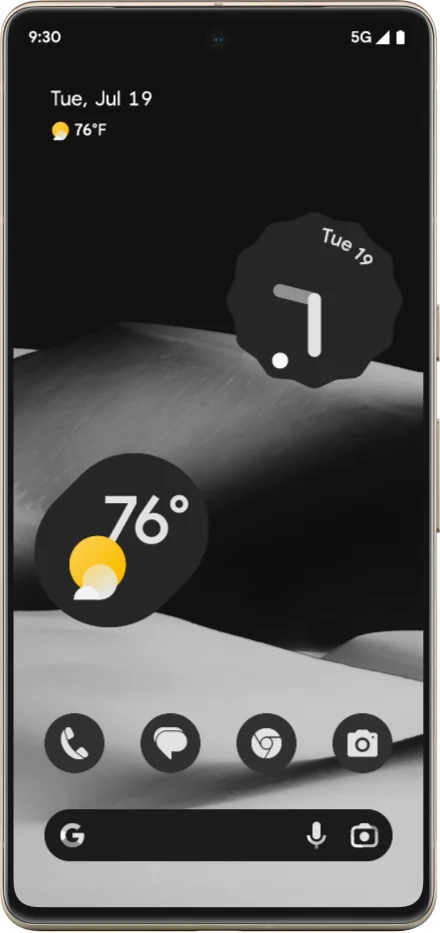 Wallpapers, too, will see a significant upgrade, with several new features rolling out first to Pixel devices next month. The new Emoji wallpaper will allow users to customize their devices using their favorite emoji combinations, patterns, and colors.
Cinematic wallpaper uses on-device machine learning networks to transform photos into stunning 3D images, which animate when the device is unlocked or tilted.
For those who prefer to create something unique, the Generative AI wallpaper feature allows users to describe their ideal creative vision in response to prompts. Google's text-to-image diffusion model then generates unique wallpapers based on these descriptions. Thanks to Material You, the Android system's color palette will automatically match the chosen wallpaper.
The Android update will also boost the quality of social media experiences. Android 14 will introduce new support for Night Mode and 10-bit HDR video in social apps like Instagram, ensuring these apps take full advantage of Android devices. Additionally, Android 14 will feature Ultra HDR, enabling users to take and view photos with vibrant colors, crisp shadows, and remarkable definition.
The upcoming Android update promises a more personalized and expressive user experience, powered by Google's advancements in AI. By allowing users to shape their device's look and feel, Android is ensuring that billions of active devices worldwide remain truly unique to their users.