Google today announced improvements to their recently introduced Phone Hub app, their version of Microsoft's Your Phone app for Chromebooks.
Phone Hub is a built-in control centre that lets you respond to text messages, check your phone's battery, turn on tethering and more, all from your Chromebook.
Easily access your recent photos
With the latest update, you'll now also have instant access to the latest photos you took on your phone — even if you're offline. After taking a picture on your phone, it will automatically appear within Phone Hub on your laptop under "recent photos." Just click on the image to download it, then it's ready to be added to a document or email.
No more sending yourself emails with pictures or going through multiple steps to get an image from your phone to your laptop.
In Phone Hub, you can see recent pictures that were shot on your Android phone.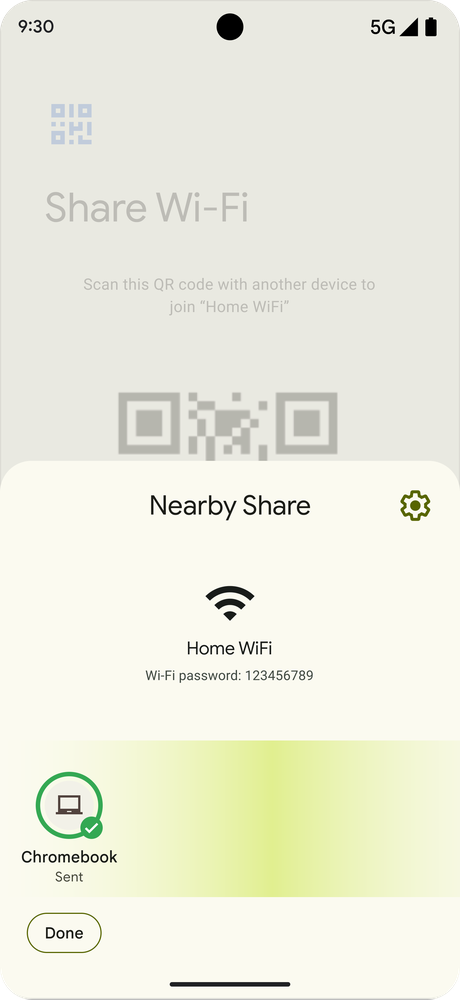 Get a Chromebook online with Nearby Share
You might already use Nearby Share to share music, pictures or other files between other Chromebooks or Android devices. Now you can also use an Android phone and Nearby Share to securely connect a Chromebook to any saved Wi-Fi network. So when your friend needs to get their Chromebook online, there's no need to track down the sticky note with the internet info, or even lift your finger to type in the Wi-Fi password.
To try it out, go to the internet settings page on your Android phone, select "Wi-Fi network" and "Share." Then tap the "Nearby" tile under the QR code, and select the Chromebook you want to get online. Nearby Share will deliver the Wi-Fi credentials (as in the network name and password), and the Chromebook will automatically connect to the Wi-Fi. And, of course, it will also save for the next time the Chromebook needs to use that Wi-Fi network.
It is now also even easier to get started with a streamlined onboarding process, and sharing is up to 10 times faster than before.
Coming soon: connect headphones with a tap
Bluetooth-enabled headphones help you stay connected without wires, but that can be difficult when you can't figure out how to set them up.  With Fast Pair coming later this summer, it's easier than ever to sync headphones or other compatible accessories to your Chromebook.
Just turn on your Chromebook's Bluetooth, and it will automatically detect when a new pair of Bluetooth headphones are on, are nearby and are ready to be set up. A pop-up notification will appear and with one tap, your new accessory is connected and ready to go. No more digging through settings or struggling to figure out the right button to press to pair your headphones. Fast Pair also saves the connection to your Google Account, so both your Chromebook or a new Android phone will remember your headphones and seamlessly connect to them in the future.
Whether you want to use new headphones to watch a video, join a virtual meeting or listen to music, Fast Pair will make it hassle-free. This feature will be compatible with hundreds of different headphone models — and counting.
Fast Pair on Chromebook will work with hundreds of headphones, including Pixel Buds.
Plus, share your ideas with Screencast
Earlier this month Google also announced a new, built-in Screencast app. Screencast lets anyone record, trim, and share transcribed videos automatically uploaded to Google Drive. You can even draw or write on the screen as you record using a touchscreen or stylus to diagram or illustrate key concepts.
Screencast makes it easy for anyone to record instructional videos, software demos, presentations, and more. It will start rolling out this week, so give it a go by tapping the Everything Button and searching for the Screencast app.
Google says they plan to introduce even more helpful features that will make all of your devices work better together later this year.